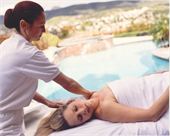 Dawn Massaging a client poolside.
After studying

Neuromuscular

& Sports Massage Therapy at Western Institute of Massage Therapy (aka:WIN), and then going on to continue her education in the area of Oncology Massage, Dawn Jackson worked for well known Spa's, Chiropractor's & Physical Therapy businesses before establishing her own business. With 20
years of experience covering many different modalities, and countless hours of volunteering to community events and cancer retreats, Dawn has easily touch the lives of over 30,000 people.
For over 12 years Dawn has been a proud member of the American Massage Therapy Association (

AMTA

), and a member of the American Massage & Bodywork Professionals (

AMBP

) for 8 years.
Dawn has worked for Chiropractors & Physical Therapists, World Renowned Spas, Hospital Chemo Wards, Cancer Patients,
Non Profit Organizations, Women's Groups, Community events,
L.A. Marathons, Athletes, and other events to share
her
talents to facilitate & educate the public on Health & Massage.
She has

volunteered

her nurturing & therapeutic massage services & sponsored many charitable events, health
& cancer groups such as Relay For Life & AWOL.
Here is a list of the many modalities Dawn Jackson is Trained in:
Sports Massage & Stretching
Deep Tissue &
Active Release Therapy
Oncology, Mastectomy, & Breast Massage Therapy
Pre & Post Natal Pregnancy Massage